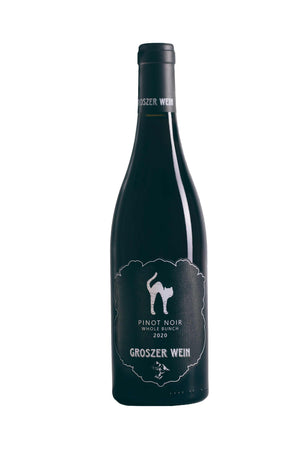 Groszer Wein Naturwein Eros Blaufränkisch vom Eisenberg 2020
Regular price
€32,20
Unit price€42,93 / per l
tax included
Many Rosés don't taste good. This finally needs to stop! It cannot be that we are constantly tortured with these Hubba-Bubba-waters. Don't worry, that is just an opinion.
This Rosé is very complex. It is a cross section of our best locations.
Blaufränkisch and Rotburger (Zweigelt) are harvested in different stages, but are mashed with their skins and stems for at least three days. That is why the colour is vermilion. Rose hip, Mieze Schindler strawberry, West Indian Cherry and some root vegetables such as parsnips and celery can be found in the glass. The wine is complex, mildly acidic and firm.
A Hymn of praise to red grapes.
Buy our Groszer Wein Naturwein Eros Blaufränkisch vom Eisenberg 2020 Red Wine in our online shop now!
The wine is currently being changed to be organic.
Details:
| | |
| --- | --- |
| Year | 2020 |
| Type of wine / Grape variety | 80 % Blaufränkisch 20 % Zweigelt |
| Type of soil | slate |
| Selection / Harvest | hand selected |
| Barrels | Rubbed and left on the shell for 5 days, then 500 liter barrel and 1600 liter barrel |
| Alcohol content | 11,5 % |
| Drinking temperature | 9-11 degrees |
| Ageing potential | 2025 |