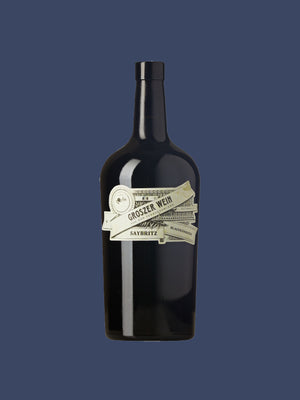 Groszer Wein Blaufränkisch Saybritz 2011
Regular price
€37,00
Unit price€37,00 / per l
tax included
Eisenberg - one of the smallest and most original wine regions in Austria in southern Burgenland. Surrounded by hillsides full of grapewines in an untouched landscape. Old wine stocks adorn the picture of this beautiful wine area. The soil is full of minerality and gives the vines their strong and exotic taste. In this special place on earth the main grape variety is cultivated: The Blaufränkische.
This wine is one of our older vintages from our wine cellar - a real rarity! Only a few bottles are left. Exclusively for you. The Groszer Wien Saybritz 2011 red wine has an extraordinary expressive fruit aroma, a fine spice , a hint of plum and firm tannins at its heart. The wine shows a purple colour with glowing reflections in the glass. It promises a long finish.
Shop one of our last bottles of the Groszer Wine Blaufränkisch Saybritz 2011 red wine from the vintage 2011 in our online shop!
Details:
| | |
| --- | --- |
| Type of wine / Grape variety | 100 % Blaufränkisch |
| Type of soil | slate soil, clay soil and brown earth from the rocks |
| Selection / Harvest | hand selected |
| Barrels | 1600 l wooden barrels, 500 l wooden barrels |
| Drinking temperature | 16-18 degrees |