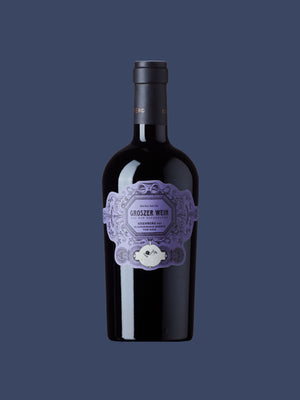 Groszer Wein Eisenberg DAC Blaufränkisch Reserve - vom Riegel 2013
Regular price
€23,90
Unit price€31,87 / per l
tax included
South Burgenland - the smallest and idyllic wine region in Austria. The region of Eisenberg impresses with its unique climate, steepy vineyards and special soils. These are the perfect conditions for an excellent wine - The Groszer Wine Blaufränkisch Eisenberg DAC Reserve from the 2013 BAR.
This special wine is hand selected and one of our older vintages. It promises nuances of plum jam, blackberries, sour cherries and herbs. It has a beautiful length with a beguiling finish that makes you wish for more.
This noble drop can be served with braised meat and venison.
Order our Quality Wine Groszer Wine Eisenberg DAC Blaufränkisch Reserve now - from the vintage 2013 - A Rarity!
Details:
| | |
| --- | --- |
| Type of wine / Grape variety | 100 % Blaufränkisch |
| Type of soil | slate and soil |
| Selection / Harvest | hand selected |
| Barrels | 1600l barrel, 500l wooden barrel, new and used 225l barriques |
| Drinking temperature | 16-18 degrees |