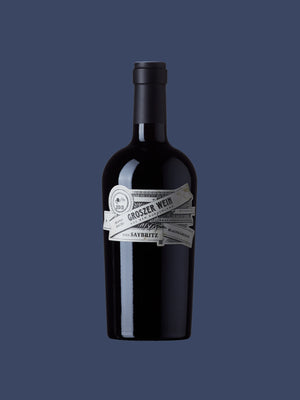 Groszer Wein Eisenberg DAC Blaufränkisch Reserve Ried Saybritz
Regular price
€32,00
Unit price€42,67 / per l
tax included
Our Groszer Wine Blaufränkisch Saybritz - masculine, exotic, edgy and almost wild with an impressve acidity and exotic tannins. A decent wine you can only find in the Eisenberg in southern Burgenland.
The ground at Saybritz is very steep and can be found in the south-weastern hillside of the Eisenberg. The soil is both loamy and clayey. It also contains brown earth from the rocks. Saybritz starts at the top of the Eisenberg mountain and ends in the small town of Eisenberg. In Eisenberg you can find a very special microclimate: sunny weather with a mild breeze. The Blaufränkisch Saybritz only contains grapes from this specific area. The grapevines are up to 60 years old.
The berries are fermented on the mash in a wooden fermentation stand without adding any artificial yeast for three weeks. After pressing the grapes the wine is put into wooden 500l barrels to age.
Groszer Wine Blaufränkisch Saybritz is a wine characteristic you can only find in Eisenberg. The complex red wine shows a bold red colour with violet reflections. The wine has touches of spices, aromas of nougat and is underlined by black cherries, plums, figs, blueberries, blackberry jam and a mineral touch. The wine has a soft and elegant texture, is slightly sweet and contains harmoniously integrated tannins and velvety nuances in the finish. It is a full-bodied wine and can be served with versatile dishes with meat.
Buy our Red Wine Groszer Wein Eisenberg DAC Blaufränkisch Reserve Ried Saybritz in our online shop now!
Awards:
Falstaff 94 points
VINUM Ausgabe 10/2017
Guide Red wines from Austria
15,5 points
Details:
| | |
| --- | --- |
| Type of wine / Grape variety | 100 % Blaufränkisch |
| Type of soil | slate soil, clay soil and brown earth from the rocks |
| Selection / Harvest | hand selected |
| Barells | 1600 l wooden barrels, 500 l wooden barrels |
| Drinking temperature | 16-18 degrees |
| Ageing potential | 2031 |