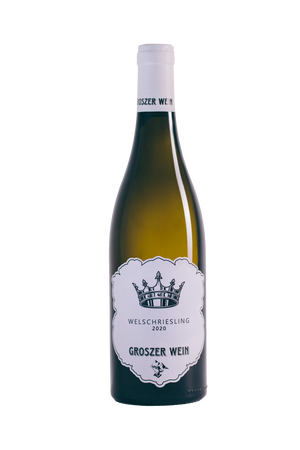 Groszer Wein Naturwein Welschriesling Saybritz 2020
Regular price
€24,00
Unit price€32,00 / per l
tax included
The Welsch is a magician. And we try to offer him the stage that he deserves.
It has not been easy for him in Austria in the past. But without complaining he simply accepted his fate as a "Doppler" and "Spritzer" wine.
What these grapevines are providing this summer is just magical. The aroma radiates in all directions. Minerality, salty, flower meadow and Amalfi lemons embedded in a ripe and juicy pineapple. But not loud, not obtrusive. Actually only an indication so there is enough space left for imagination left. This wine is touching. A flasback into a beautiful world.
Buy our Groszer Wein Naturwein Welschriesling Saybritz in our online shop now!
The wine is currently being changed to be organic.
Details:
| | |
| --- | --- |
| Year | 2020 |
| Type of wine / Grape variety | 100% Welschriesling |
| Type of soil | slate |
| Selection / Harvest | hand selected |
| Barrels | Whole cluster pressing, then aging in concrete egg and 900 liter barrel |
| Alcohol content | 11,5 % |
| Drinking temperature | 9-11 degrees |