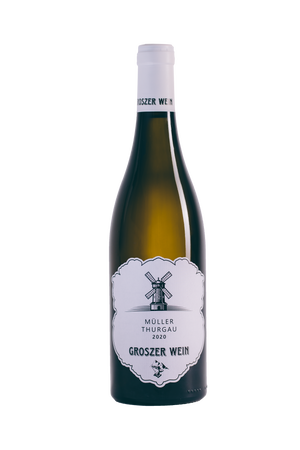 Groszer Wein Naturwein Müller-Thurgau Csaterberg 2020
Regular price
€19,00
Unit price€25,33 / per l
tax included
A grape variety that impresses with overhanging branches and mild acidity.
But not at Groszer Wein. The Csaterberg produces a different version of the Müller-Thurgau. Rich in detail, with impressive fruits and a wild acidity. Pineapple, Mango and Papaya reveal its exotic nature. Plus mirabelle, peach, hay and Granny Smith apple skins. It offers everything you could wish for. Spice that reminds you of juniper and fleur de sel. You can taste a precise minerality, a dense structure and buttery heart on the palate. And around everything the acidity is dancing a boogie.
Oh man, oh man, oh man, what a great Müller-Thurgau.
Buy our Groszer Wein Naturwein Müller-Thurgau Csaterberg 2020 in our online shop now!
The wine is currently being changed to be organic.
Details:
| | |
| --- | --- |
| Year | 2020 |
| Type of wine / Grape variety | 100% Müller Thurgau |
| Type of soil | slate |
| Selection / Harvest | hand selected |
| Barrels | Whole cluster pressing, fermentation in stainless steel tanks, then for maturation in 1600 liter barrels |
| Alcohol content | 11,5 % |
| Drinking temperature | 9-11 degrees |
| Ageing potential | 2025 |