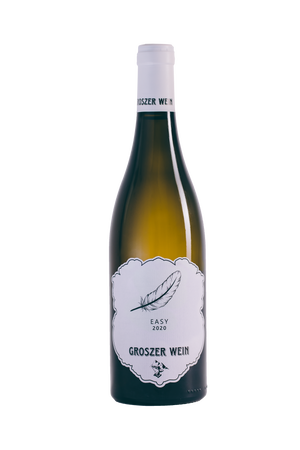 Groszer Wein Naturwein Easy Gemischter Satz vom Eisenberg 2020
Regular price
€16,20
Unit price€21,60 / per l
tax included
Easy is our motto in life.
Coffee in the morning: easy. Coffee stain on the pants: easy. Working until late at night: easy. Missed your flight: easy. Reason enough to communicate our motto through a wine. Wine is more than an alcoholic beverage.
This wine is a Gemischter Satz from the Eisenberg. Pretty much all of the Austrian white wine varieties came together in this wine. We don't know how much of which grape variety is in the wine, but it doesn't really matter anyway. What is important is the smell, the taste and what kind of emotions it releases inside of you. Herbs, yellow fruits, hop, a flowery meadow together with the soil and tellicherry pepper. It is a small spectacle which unfolds in the glass; just easy.
And serenity is something we all need. Good that it is drinkable now.
Buy our Groszer Wein Naturwein Easy Gemischter Satz 2020 vom Eisenberg in our online shop now!
The wine is currently being changed to be organic.
Details:
| | |
| --- | --- |
| Year | 2020 |
| Type of wine / Grape variety | 100 % Gemischter Satz (Welschriesling, Grüner Veltliner, Weisburgunder, Neuburger and a few more) |
| Type of soil | slate |
| Selection / Harvest | hand selected |
| Barrels | Graduated and fermented on the mash for approx. 21 days, then 2100 and 1100 liter barrels |
| Alcohol content | 11 % |
| Drinking temperature | 9-11 degrees |
| Ageing potential | 2025 |