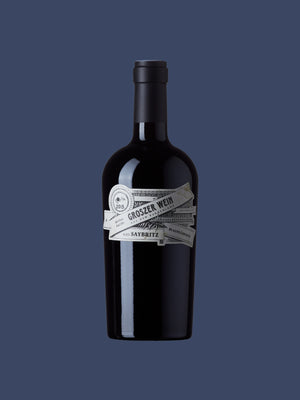 The fantastic Groszer Wine Blaufränkisch Saybritz from 2015 impresses with exotic tannins and lively acid structure. A wine full of character you can only find in Eisenberg.
For many generations wine has been grown and made in Eisenberg - one of the biggest wine-growing areas in the smallest wine region of Austria - southern Burgenland. The soil here is perfect for the famous grapevines of Austria - The Blaufränkische. The grapevines grow on the south-western hillside of the Eisenberg where the microclimate is ideal for the grapes: sunny and with a mild breeze . Our Groszer Wine Saybritz 2015 has a strong and wild personality. It shows a ruby red colour with violet reflections in the glass and adds a mixture of notes like nougat, black cherries, plums, figs, blueberries and fine blackberry jam with touches of minerality to the nose.
The berries are fermented on the mash in a wooden fermentation stand without adding any artificial yeast. After pressing the grapes, the wine is filled in wooden 500l barrels to age. The full-bodied wine promises harmoniously integrated tannins and velvety nuances in the finish. The Blaufränkisch Saybritz from 2015 is a versatile wine which can be served with hearty meals like meat.
Buy our Red Wine Groszer Wein Blaufränkisch Saybritz 2015 in our online shop now!
Analytische Daten:
| | |
| --- | --- |
| Type of wine / Grape variety | 100 % Blaufränkisch |
| Type of soil | slate soil, clay soil and brown earth from the rocks |
| Selection / Harvest | hand selected |
| Barrels | 1600l barrels, 500l wooden barrels |
| Drinking temperature | 16-18 degrees |
| Ageing potential | 2031 |