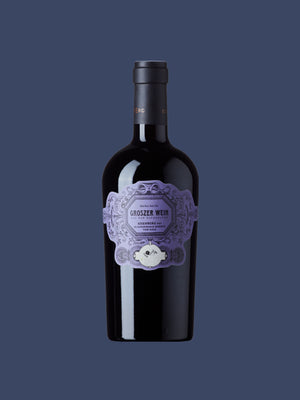 Groszer Wein Eisenberg DAC Blaufränkisch Reserve Eisenberg
Regular price
€18,90
Unit price€25,20 / per l
tax included
The expressive Blaufränkisch has aromas of plum stones and herbs. The grapevines are from Riegl - in the heart of the Eisenberg - Hummergraben and Kroatischer Ried - That is our Groszer Wine Blaufränkisch from Riegl.
The landscape of Eisenberg is reminiscent of a fish'es back. The hillsides are steep and a small road it set along the top of the ridge. From the curves of the road you have a marvellous view of the peaceful and idyllic southern Burgenland. The Riegl owes its name to this special formation.
A "Riegl" is a long and rising ground which forms a barrier in the landscape. If you are not from the southern Burgenland and have never seen the "Riegl" before, just imagine a chocolate or cereal bar placed on its edge in a landscape. Now you should have an impression of how steepy and extraordinary the Eisenberg is. The Blaufränkisch grapes grow in the steep south and west hillsides "Hummergraben" and "Kroatische Ried"
Due to the age and thinning out of the grapevines a very expressive red wine is born which ripens in wooden barrels. The wines from the Eisenberg are "slow" that means they need to ripen a bit longer in their wooden barrels in order to enhance their properties. The wine profits from the longer aging process with an increased stability - the lively acids and the rich tannins make the DAC Blaufränkisch Reserve Eisenberg into one of the best slow ageing wines from Austria. Even after 10 or 15 years this wine can still be served and enjoyed by you and your guests!
The Eisenberg DAC Blaufränkisch Reserve Eisenberg from Riegl appeals with aromas of blackberries, black cherries and a delightful spice. It is firm and dense on the palate but also very lively and comes with a long and fine acid structure. The wine shows a deep ruby red colour with violet reflections in the glass. The fermentation takes place without adding any artificial yeast. After two years of ageing the wine is filled into bottles.
This excellent wine goes well with braised beef, root vegetables and gravy.
Buy our Red Wine Groszer Wein Eisenberg DAC Blaufränkisch Reserve Eisenberg in our online shop now!
Awards:
Details:
| | |
| --- | --- |
| Type of wine / Grape variety | 100 % Blaufränkisch |
| Type of soil | clay and slate soil |
| Selection / Harvest | hand selected |
| Barrels | 1600l barrels, 500l wooden barrels, new and used 225l barriques |
| Drinking temperature | 16-18 degrees |
| Ageing potential | 2030 |