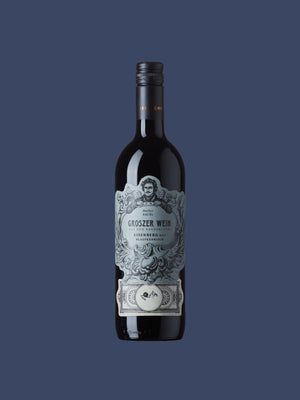 Groszer Wein Eisenberg DAC Blaufränkisch
Regular price
€12,50
Unit price€16,67 / per l
tax included
Blaufränkisch - a very prestigious grape variety from Austria. A very old, late ripening, red wine variety - very typical for the southern Burgenland region. The grapes for this wine come from various areas, which are very different in their soil structure and are the reason for the precision of the wine. Its colour is a bright red and it has aromas of blackberries, juniper berries, cherry fruit and a hint of pepper.
Our grapes for the Blaufränkisch wine are mainly from the Eisenberg in southern Burgenland. Here the grapes grow on a slate soil which is the reason for its extraordinary taste and the bright colors of the fruits. The hills nearby - the Königsberg and the Kulm - provide a clay soil and are the reason for the aromatic and strong taste of the Blaufränkisch wine. Grapes from the Eisenberg have a typical acidity and strong tannins - a longer ripening time is necessary for grapes with these characteristics to ensure a longer life of the wine.
The fermentation happens in steel tanks as well as in wooden barrels (1600l). After 8 months of ripening in the wooden barrels the wine is put into stainless steel tanks to mature a little longer
The wine has a bright purple colour in the glass and pleases the nose with fruity scents of sour cherries, spicy pepper and blackberries. It serves a fine structure on the palate. The Blaufränkische charmingly interplays with its typical Eisenberg spiciness and has fine acids, long but soft tannins and an extraordinary freshness in the finish that makes you want more.
Buy the Groszer Wein Eisenberg DAC Blaufränkisch in our online shop now.
Awards:
Falstaff 90 points
Weinguide Rot Excellent
Analytische Daten:
| | |
| --- | --- |
| Type of wine / Grape variety | 100 % Blaufränkisch |
| Type of soil | loam and slate |
| Selection / Harvest | hand selection |
| Drinking temperature | 1600l barrels, stainless steel |
| Ageing potential | 16-18 degrees |
| Lagerpotential | 2027 |