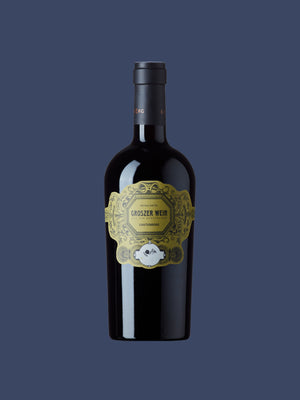 Groszer Wein Csaterberg Weisz
Regular price
€18,90
Unit price€25,20 / per l
tax included
A white wine, yellow-green like lush meadows with silver reflections and hints of yellow tropical fruits underlined by scents of pineapples and peaches. Very elegant with a bold minerality and fine touches of wood. That is the Groszer Wine Csaterberg Weisz from Southern Burgenland!
Here in our region the Csaterberg is called the brother of the Eisenberg. The grapes grow in high vineyards on the southern and south-east sides of the hill. The north and the west side of the hill are covered in coniferous forests which form a naturally protective shield for the vineyards from the cold northern winds. If you want to drive or go up the Csaterberg you have to go through this forest, no matter which side you start from. From the Csaterberg you have a fantastic view of the vineyards, and the small and colourful houses, which create the famous "Kellergasse".
Even more extraordinary than the landscape is the type of soil that you can find on the Csaterberg; the wineyards grow on a ground with opals, which was formed over 7 million years ago. At that time this region was a freshwater lake. This extraordinary natural environment is what makes the Csaterberg a very famous place for wine-making.
Moreover the Csaterberg is split into two mountains in the "Klein-Csater" (which is the smaller one) and the "Hoch-Csater". Groszer Wein owns three hectars of the vineyards at the Klein-Csater in the south-east and two hectars are owned by the Earl of Erdödy (since the 16th century)
The grapevines of our Welschriesling, Chardonnay and Sauvignon Blanc-Reben are more than 30 years old. After selecting the grapes by hand, the grapes are mashed for 24 hours to get the aroma from the skin of the grapes into the wine. After pressing the grapes they are fermented with yeast in a 500l stainless steel barrel.
The fascinating and versatile scent of the white wine is reminiscent of the slate soil, the opalline, and the long, dry and cold autumn. Pleasant for the palate: with a taste of wild herbs-, tropical fruits and a hint of pineapple and peach. The white wine is a very versatile and delicate wine that can be served with a lot of dishes. It promises a great freshness, tight mineral structure with nutty aromas in the finish.
Buy our White Wine Groszer Wein Cstaterberg Weisz in our online shop now!
Awards:
Details:
| | |
| --- | --- |
| Type of wine / Grape variety | Welschriesling, Chardonnay, Sauvignon Blanc |
| Type of soil | slate soil, opalline |
| Selection / Harvest | hand selection |
| Barrels | 300l and 500l wooden barrels (since 2019 without any filtration) |
| Drinking temperature | 8-10 degrees |
| Ageing potential | 2021 |