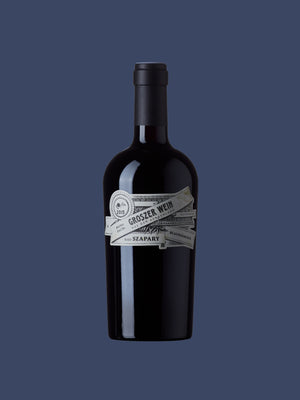 Groszer Wein Eisenberg DAC Blaufränkisch Reserve Ried Szapary
Regular price
€43,00
Unit price€57,33 / per l
tax included
The vineyards at the height of the Szapary are the most steepest. Therefore the hillsides of Eisenberg in southern Burgenland are hard to cultivate. The grapes for this Blaufränkisch wine only grow in Eisenberg at the height of the Szapary. The grapevines are more than 60 years old and the soil at this height is made from just slate.
The grapes are carefully harvested by hand and sorted on a sorting belt afterwards. After mashing the grapes for 3 weeks, the wine is pressed and filled into new or used 500l barrels. The fermentation takes place without adding any artificial yeast.
This unique and complex Groszer Wein Eisenberg DAC Reserve Blaufränkisch Ried Szapary Red Wine has a ruby red colour with violet reflections.
The wine has hints of sour cherries, blackcurrants and wild berries, a mild tobacco spice underlined by a touch of liquorice, fine wood, mandarin peel and aroma of heart cherries. The wine promises a fresh, elegant and fine taste with Eisenberg's typical salty flavour. It is energetic and long in the finish
The Eisenberg DAC Reserve Blaufränkisch Ried Szapary Red Wine is an excellent wine to be served with roasted meat and gravy.
Buy our Red Wine Groszer Wein Eisenberg DAC Blaufränkisch Reserve Ried Szapary in our online shop now!
Awards:
Details:
| | |
| --- | --- |
| Type of wine / Grape variety | 100 % Blaufränkisch |
| Type of soil | slate soil |
| Selection / Harvest | hand selected |
| Barrels | 500 l wooden barrels |
| Drinking temperature | 16-18 degrees |
| Ageing potential | 2029 |