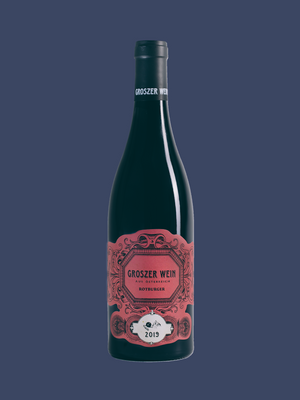 Groszer Wein Rotburger (Zweigelt)
Regular price
€18,90
Unit price€25,20 / per l
tax included
THE ROTBURGER (ZWEIGELT) ENJOYS A SPECIAL POSITION IN OUR HOUSE. IN A GOOD LOCATION IT IS OF THE HIGHEST QUALITY. JUST LIKE THE BLAUFRÄNKISCH.
With us the Rotburger grows on Königsberg, a hill next to the Eisenberg. Here you have a cool clay soil with lime in the subsoil. This gives the wine a piquant acidity, which fits elegantly into the matrix and gives it the necessary backbone. Aromas of dark forest fruits such as cherries, blackberries, blueberries and plums unfold in the glass. Seasoning reminiscent of tobacco and black pepper. The tannin is silky along the palate and gives the wine its strength.
ORDER OUR RED WINE GROSZER WEIN ROTBURGER ZWEIGELT IN OUR ONLINE SHOP NOW!
Details:
| | |
| --- | --- |
| Type of wine / Grape variety | 100% Rotburger (Zweigelt) |
| Type of soil | tiefgründiger Lehm |
| Location | Königsberg |
| Selection / Harvest | Hand selected |
| Barrels | Mash fermentation for 18 days, then small, used barriques and 500 barrels |
| Drinking temperature | 12-14 degrees |
| Ageing potential | 15 years |