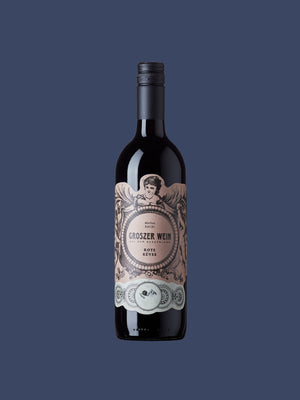 Zweigelt, Blaufränkisch, Syrah, Cabernet Sauvignon and Merlot blend together to create a fascinating diversity. The brilliant mineralik combines soft richness and the aromas of sour cherry, cherry and blackberry. The Groszer Wine Red Küvee has a ruby red colour with violet reflections and is particularly pleasurable to drink.
The grapes of this wine grow on a ground with a lot of slate on the Eisberg as well as on a clay soil at the Königsberg. This is how the finished wine provides such a delightful aftertaste of brilliant minerality and soft richness.
The grapes were selected by hand. After pressing the grapes and on completion of the biological acid fermentation process, the wine is stored in large wooden barrels (1600 l). Syrah, Cabernet and Merlot stay in their barriques and barrels (500l) during their biological acid fermentation. After a ripening time of 16 months the wines are blended together.
The Red Küvee is a lot of fun. She is like a great song that you want to hear over and over again without ever getting enough of it. It adds fruity flavors like sour cherry, cherry and blackberry as well as a hint of liquorice to the nose. The minerality and fresh taste is what makes the Red Küvee a perfect wine representative of its region and can be served with many different dishes.
Buy the Groszer Wein Red Küvee in our online shop now!
Awards:
Falstaff 90 points
Cathay Pacific Hong Kong International Wine and Spirits Competition Silver
Á la carte 91 points
Wine Enthusiast 92 points
Weinguide Rot Excellent
Mundus Vini Silver
Analytical data:

| | |
| --- | --- |
| Type of wine/Grape variety | 40% Zweigelt, 20% Blaufränkisch, Rest Cabernet Sauvignon, Syrah, Merlot |
| Type of soil | clay and slate soil |
| Selection/Harvest | hand selected |
| Barrels | 1600 l wooden barrel, french barriques and 500 l barrels |
| Drinking temperature | 16-18 degrees |
| Ageing potential | 2022 |